AmaWaterways Takes Home Top Honors At 2023 Asta Global Convention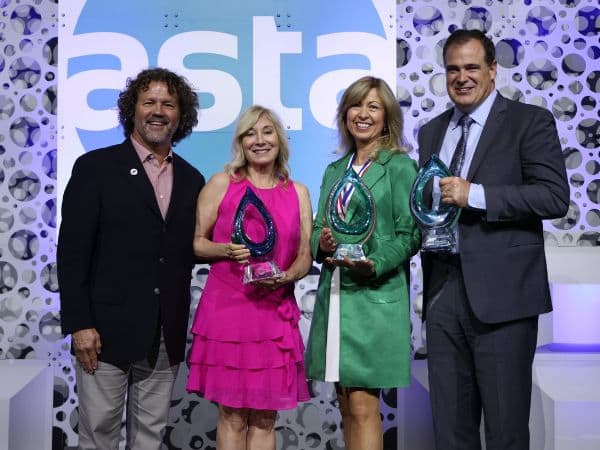 Leading river cruise line, AmaWaterways, proudly announced it received four prestigious accolades at the American Society of Travel Advisors (ASTA) Global Convention on May 4, 2023, including the highest honor of Partner Company of the Year for the fifth time.
At the two-day educational industry event in San Juan, Puerto Rico, the family-owned and operated river cruise line was also recognized as River Cruise Partner of the Year for the eighth time.
New honors this year were bestowed on Kristin Karst, co-founder and executive vice president, as she received Supplier Partner Representative of the Year as well as Supplier Medal of Excellence. Karst was on hand to personally to accept the awards on behalf of AmaWaterways along with Diane Curchy Horan, director, strategic partner networks and Carlos Herrero, business development manager, Latin America.
"We look forward to the ASTA Global Convention Awards each year as the awards are voted on by advisors themselves and are a representation of the outstanding relationships that our teams have developed with our travel partners," said Karst. "We are truly honored and humbled to have earned four distinct supplier awards this year. I believe that these accolades represent our commitment to supporting all the educational and professional development that ASTA provides its members as well as the deep respect and collaboration we have had with the travel advisor community since we started AmaWaterways more than 20 years ago."
Each year, the ASTA Global Convention Awards recognize industry suppliers who demonstrate a willingness and desire to partner with agencies and reward travel advisors for the important role they play in the sales and service process. These awards are very special honors as they are voted on by travel advisor members — representing 80 percent of all travel sold in the United States — and recognize supplier companies who stand out from all the others in their outstanding support and commitment to ASTA and the travel advisor community.
AmaWaterways celebrated the start of Travel Advisor Appreciation Month during the May 3rd Webinar Wednesday with the announcement of new Seminar on the River dates, select FAM dates until November and a special Sell Three Sail Free incentive. The river cruise line will also be awarding a free river cruise each week during the month of May chosen from those attending the Webinar Wednesdays. Full details can be found on AmaWaterways' Travel Advisor Portal.
"Providing FAM opportunities for travel advisors to cruise with us and experience the AmaWaterways difference for themselves has always been a top priority," said Alex Pinelo, senior vice president, sales. "Our teams were so proud to welcome over 500 travel partners on our ships during the recent ASTA River Cruise Expo in Budapest and we look forward to welcoming even more advisors during next year's Expo in Amsterdam."