MedCruise 60th General Assembly confirms increasing trends in the cruise sector and designs new sustainable scenarios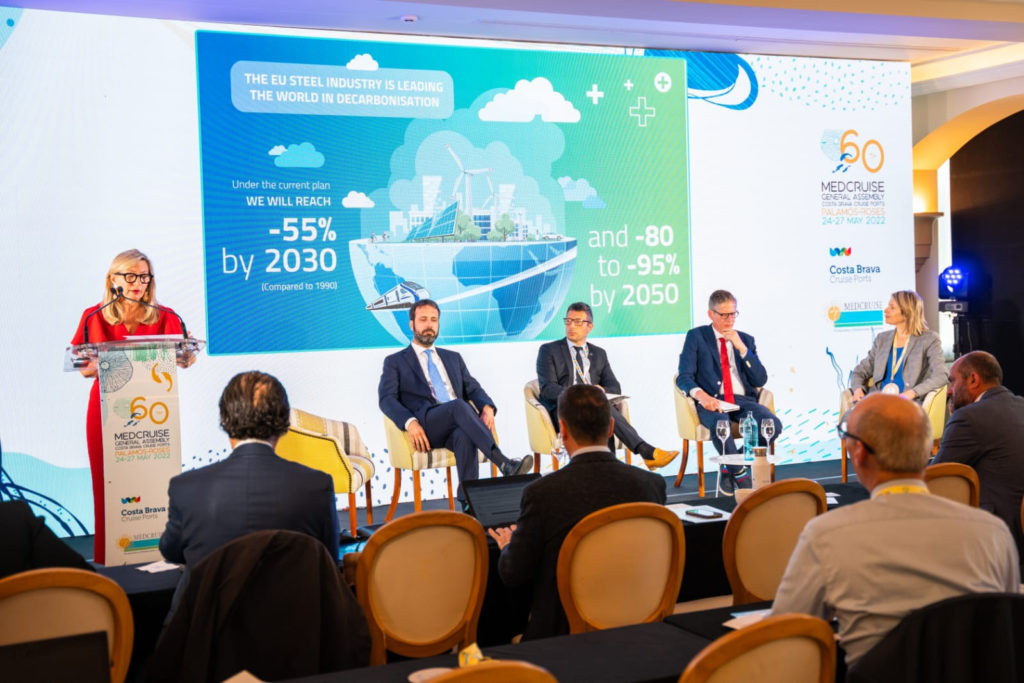 The 60th edition of the General Assembly of MedCruise, the Association of Mediterranean Cruise Ports, representing more than 145 cruise ports from 22 countries and three continents, was hosted by the port member Costa Brava Cruise Ports representing Palamós and Roses.
It was an exceptional event for many reasons: after two years of lockdown it was finally one of the first events organised in presence but also because of the record number of participation.
185 delegates, coming from three continents, 22 cruise executives from 18 cruise lines, 11 journalists from international and 12 from Spanish press joined at Costa Brava for three vibrant days.
The record participation was beneficial for the new #MedCruise4Planet campaign, which involved as a first in the industry one registration one planted tree in France and Portugal thanks to the support of Reforest Action company.
Palamós & Roses, 31st of May 2022-The MedCruise 60th General Assembly hosted by the port member Costa Brava Cruise Ports in Palamós & Roses, has successfully concluded.
In three days the Association has organised more than 600 B2Bs, workshops, meetings and discussion panels including all the port and associated members. Special B2B online sessions will be organized specifically for the Black Sea cruise ports that could not attend the MedCruise General Assembly.
The six plenary sessions were focused on key matters and themes that the cruise industry needed to discuss in depth.
Trends in the Med session moderated by Francesca Antonelli, Marketing & Cruises Manager, Commercial & Business Development, Port Authority of Valencia, Spain and SVP, Professional Development, MedCruise and Lorenzo Vega, Manager, Motrilport-Granada, Spain, VP, Destination Development, MedCruise.
The discussion with Maria Cano, Cruise Manager, Ports of Catalonia, Spain, Andrea Ferla, Manager, Destination Experiences, Silversea Cruises, Sander Groothuis, VP, Port Operations & Development, Carnival UK and Jacopo Pendola, Director, Itinerary & Revenue Planning, Costa Cruises has been about the challenges covered by Med Ports together in the last years and has underlined how the pandemic also created new opportunities and confirmed that cooperation with the cruise lines and other stakeholders is crucial more than ever to face new challenges.
Fit for 55 – Where the 145 ports are to fit the sustainability goals moderated by Valeria Mangiarotti, Marketing Manager, PNA of the Sardinian Sea, Italy and Technical Enviromental Solutions, MedCruise, Theodora Riga, Director of Corporate Communications, Thessaloniki Port Authority, Greece and European Union & Association Collaborations, MedCruise.
The speakers involved, Alessandro Carollo, Director, Government Relations, Royal Caribbean Group, Vincenzo Galati, Director, ABG Marine Technology, Carnival Corporation & Plc, Nicolai Skogland, Executive Director, Port Operations and Government Relations, Viking Cruises, have discussed this pack of new legislative proposals and amendments to existing EU legislation that will help the EU cut its net greenhouse gas emissions by at least 55% by 2030 compared to 1990.
Young travellers – What the travellers & customers want from us moderated by
Cristina de Gregori, Communication and Marketing, Ports of Genoa, Italy and PR, Communication and Marketing, MedCruise and Anne-Marie Spinosi, Cruise Manager, Chamber of Commerce of Corsica, Franceand Events and #PortsTogether Activities, MedCruise. The speakers involved, Nikola Bajo, Nautical Manager, Grand Circle Cruise Line, Gina Dunnett, Director, Land Product Development, Azamara Club Cruises and Sacha Rougier, Head, Itinerary Planning and Shore Experience, MSC Cruises – Explora Journeys have added an interesting discussion about the different needs of the guests depending on their age with a particular focus on younger travellers that belong to Z Gens and how they impact the current and future travellers' trends.
#MedCruise4OurPlanet – A holistic approach to sustainability moderated by Jamil Ouazzani, Director of Marketing & Strategic Intelligence, Tangier City Port Management Company, Morocco and EcoSystem and Sustainability, MedCruise and Elisa Zamora, Commercial Manager, Port Authority of Santa Cruz of Tenerife, Spain and Membership and Sponsorship, MedCruise.
The debate was about the fact that even if we operate in a global industry, every MC member has its own identity and no doubt that one solution will never fit any challenge they face. For this reason, the debate together with Michele Bosco, Shore Excursions-Mediterranean, North Africa & Black Sea, Holland America Group, Andrea Gonzalez, Sustainable Development Coordinator, Intercruises Shoreside & Port Services, Ioannis Pappas, Director Mediterranean Region of Global Sustainable Tourism Council (GSTC), Frederique Patry, Senior Manager, Itinerary Planning, Silversea Cruises, Adam Sharp, Director, International Destination Development, Royal Caribbean Group has been concentrating on how to get to an adapted approach and tailor-made solutions for multifaceted sustainable challenges.
The new normal cruising-First half reviews from itinerary planning, destination management and port operations perspective moderated by Cristina Carriere, International Relations and Communication Department, PNA of the Ionian Sea, Italy and Port & City Relationship, MedCruise and Aziz Gungor, East Med Ports Regional Director, Global Ports Holding, Turkey and Health, Safety and Security, MedCruise.
Along with Aleksander Bieniek, VP, Marine Operations, Star Clippers, Emilio Freeman, VP, Itineraries & Destinations, SeaDream Yacht Club, Hugues Lamy, Director, Port Operations, Scenic Luxury Cruises & Tours and Daniela Sordi, Senior Manager, Destinations Management, Swan Hellenic Cruises, the debate was about the crisis-driven innovations cruise lines made while navigating their way to the «new normal».
The big 3D's – Digitization, digitalization, data for a better customer experience moderated by Figen Ayan, Chief Port Officer Galataport Istanbul, Turkey and MedCruise President and Aris Batsoulis, Head, Technical Services & Development Director, Corfu Port Authority, Greece and Projects, Studies and Finances, MedCruise.
In our modern, constantly changing, involving world and cruise industry, it has been interesting to understand with Yusuf Amro, Founder and Business Consultant of Yamro.Limited, Semih Incedayi, CEO, Dogus Technology, Davide Truscello, Director, Pricing, Itinerary & Revenue Planning, Costa Cruises and Diogenis Venetopoulos, DPA/CSO-Partner, Variety Cruises how our companies via reliable and consumable data can create better customer experiences.
Thanks to MedCruise General Assembly, the cruise line executives, together with the international press, have also had the opportunity of visiting the most characteristic places and testing the eco-gastronomic uniqueness of Costa Brava through dedicated tours.
"I am particularly proud of this General Assembly, the first one for me as President of MedCruise"' declared Figen Ayan.
'It has been a record edition demonstrating that especially in our socially engaging cruise industry, people need to meet, greet and do networking in presence. Nevertheless, I would like to send my thoughts and prayers to our friends in Odessa and the entire Black Sea, while looking forward to seeing them among us. Post MedCruise General Assembly, we have arranged specifically for our Black Sea members online meetings in order to let them be involved in the unique MedCruise B2B meetings.
I would like sincerely thank the the Ports of Catalonia (Ports de la Generalitat), the Tourism Board of Costa Brava, the Council of Palamós, the Council of Roses that have hosted every participant of our General Assembly in a warm and exclusive manner, which gave the opportunity to have fruitful networking opportunities. Moreover, we have been able to discuss environmental and sustainable matters whether it is technical or social in a non-intimidating manner but in an open, solution-oriented manner all for the benefit and sustainable growth of the cruise industry.
The Med continues to be a leading market in the sector because we know that collaboration is a key ingredient for strong growth. And it is for this exact reason that the cruise activity restart after the pandemic in August 2020 in the Med first. After 2 years, the cruise lines have confirmed the increasing trend and the ports of MedCruise are working all together to maintain this leading position in the most sustainable way, improving and implementing the offer of their excursions as well".
The 62nd General Assembly will be held in Malaga the day after the Seatrade Cruise Med event.