Regent Seven Seas Cruises Unveils Spectacular New Entertainment Shows for Seven Seas Grandeur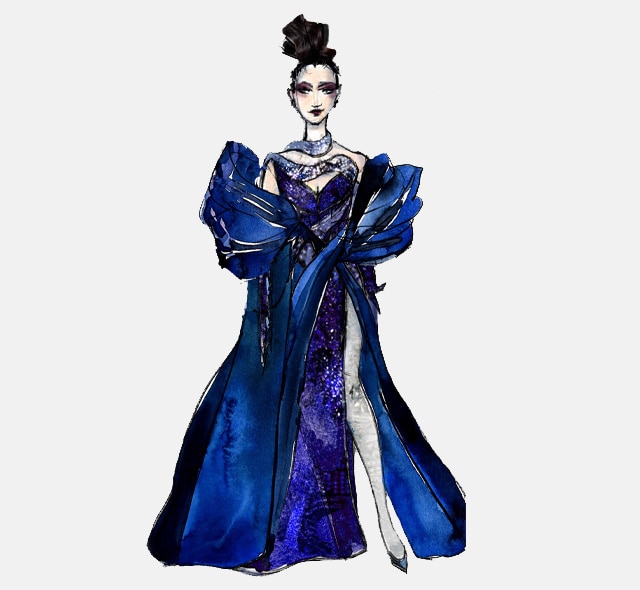 Regent Seven Seas Cruises is thrilled to announce the debut of four captivating entertainment shows aboard its newest ship, Seven Seas Grandeur™ – A Heritage of Perfection – launching in November 2023.
The new, extraordinary productions celebrate the legacy of Broadway and its influence on at-sea entertainment, showcasing the talents of world-class performers, breathtaking choreography, and providing guests with unforgettable moments.
Featuring the genuine flair of Grammy Award winners in music, world-renowned choreographers, and experts in authentic costume design – such as Dancing with the Star's Britt Stewart, Argentine Tango royalty Francisco Forquera and acclaimed Broadway director John MacInnis – the shows debuting on board Seven Seas Grandeur, are an exciting new offering elevating Regent's entertainment credentials to a new standard.
Pasión celebrates the captivating Tango, Ignite the Night fuses dance and style, while Marauder's Ball promises guests a swashbuckling adventure. In addition, ICONS is a contemporary "VIP concert experience", showcasing headliner hits with a brand-new spin. These meticulously crafted productions embody unparalleled high energy and captivating imagery. Luxury travelers can take an exclusive look at a teaser video produced by Regent, which provides insight into the creative process behind the shows here.
"These new entertainment productions aboard Seven Seas Grandeur are a testament to our commitment to providing our guests with unparalleled luxury and unforgettable moments," said Andrea DeMarco, President of Regent Seven Seas Cruises. "Seven Seas Grandeur exemplifies more than 30 years of unrivaled experiences, and so we felt it important that the team to bring the ship's new production shows to life were steeped in Broadway heritage and talent, whether that be decorated performers, accomplished choreographers, or creative minds, to ensure that our guests will be captivated from start to finish."
Under the visionary leadership of Kai Alan Carrier, Director of Artistic Theatrical Entertainment, Regent Seven Seas Cruises has created immersive and engaging theatrical experiences exclusively for guests of Seven Seas Grandeur. As a newly created role dedicated to enhancing the cruise line's theatrical offerings, Carrier brought over 25 years of experience in the entertainment industry and a passion for pushing the boundaries of creativity.
With a strong emphasis on music, Carrier's creative development approach focuses on crafting productions that are rich in texture, design, and robust arrangements. His expertise has played a pivotal role in shaping the concept and planning behind the new shows onboard Seven Seas Grandeur.
"With an understanding that our valued guests have a love for familiar tunes and a zest for lively adventure, we wanted to ensure a diverse range of offerings," said Kai Alan Carrier, Director of Artistic Theatrical Entertainment, Regent Seven Seas Cruises. "Our ultimate objective was to present exciting forms of entertainment that would captivate and delight our audience, engaging our guests in stunning vignettes, showcasing the extraordinary talents of our performers, and leaving them with unforgettable memories. I am proud to have worked alongside an exceptional team to create these incredible shows."
Entertainment Shows Debuting on Seven Seas Grandeur
Set to debut on Seven Seas Grandeur's inaugural season, the following dazzling entertainment offerings will complement the ship's luxurious accommodations, exquisite dining options, and personalized service, further solidifying Regent Seven Seas Cruises' reputation as the unrivaled leader in luxury cruising.
Pasión
Celebrating the Tango, a dance that originated in Buenos Aires and one that is a captivating blend of cultures, Pasión aims to capture the essence of this dance style by blending it with modern hits and creating dynamic vignettes. It was paramount for Regent to establish a team with genuine Argentinian origins, and several contributors hail from the "Paris of South America," including world-renowned choreographer Francisco Forquera and Broadway costume designer Alejo Vietti. Working with overall choreographer Britt Stewart of Dancing with the Stars, this inclusion of native Argentine creative talent infused the production with unparalleled dance authenticity.
Ignite the Night
Guests will be mesmerized by Ignite the Night, an unexpected mix of dance, style, and design. Inspired by the visual grandeur of American Idol, the exhilaration of the Video Music Awards, and the contagious energy of Dancing with the Stars, this show will be forward and exciting while feeling familiar. Dancers take center stage, bringing high energy and captivating performances, choreographed by the incomparable Dancing with the Stars Pro-Dancer Britt Stewart, a true subject matter expert in this field. Ryan Park – who has worked on Broadway productions such as My Fair Lady, The King and I and Fiddler on the Roof – injected red carpet glamour and excitement with fresh and new haute couture costume design.
Marauder's Ball
Directed by Broadway pillar, John MacInnis, and with music orchestrations and arrangements by Grammy award-winning Jason Howland, Marauder's Ball is a swashbuckling good time filled with adventure and excitement, all set to the beat of modern music infused with folkloric sea shanties and melodies. Marauder's Ball promises an unforgettable experience as our talented cast takes guests on a thrilling journey through the high seas. This dynamic production will transport audiences into a world of pirate legends and seafaring tales, igniting the imagination and captivating hearts along the way. The costume design in Marauder's Ball mixes traditional pirate wear, with up-to-date fashion cuts, portraying a blend of classic pieces worn with a modern twist.
ICONS
Delivering recognizable hits, ICONS gives the audience an engaging and contemporary VIP concert experience. It's a journey through great music showcasing a stunning cast and featuring the music of beloved headliners like The Pointer Sisters, Hall & Oates, Adele, and Celine Dion. A true celebration of music where all vocalists share the lead parts, ensuring that the focus remains on the music and not just the artist. To solidify this vision, Regent enlisted the talents of experienced director Kevin Black and accomplished choreographer James Alonzo, with Creative Studios by NCLH team members Jack Maisenbach and Nicholas Bursoni providing exciting costume design.
(Regent Seven Seas Cruises Unveils Spectacular New Entertainment Shows for Seven Seas Grandeur – Regent Seven Seas Cruises)