SCH Cruise & A&P Falmouth partner and welcome Ambition to the port – Cruise Britain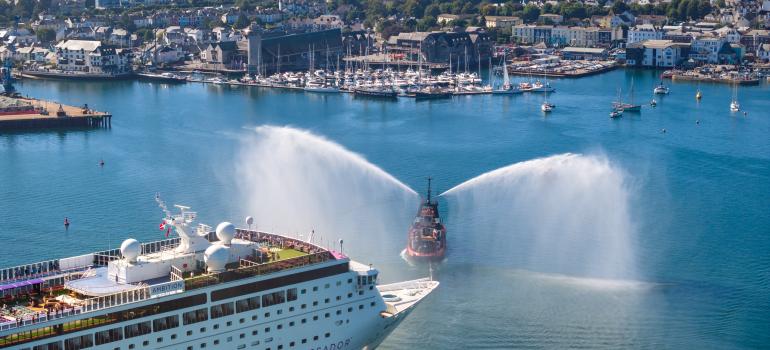 Falmouth's reputation as a premier cruise destination has been enhanced further with the arrival of Ambassador Cruise Lines' Ambition.
The collaborative efforts of SCH and A&P Falmouth orchestrated a seamless welcome for the ship's inaugural visit ahead of her British Isles Discovery cruise.
SCH and sister company CPS, renowned for cruise operational excellence, partnered with A&P Falmouth, to create an experience reflecting a shared commitment to enhancing guest experience. Working together, the services showcased the very best Falmouth has to offer and opened a new chapter for the port.
SCH Cruise's dedication to passenger satisfaction is the driving force behind this partnership. The collaboration with A&P Falmouth amplifies this commitment, extending beyond conventional cruise operations to offer passengers a seamless journey from ship to shore. From efficient parking solutions to streamlined embarkation and disembarkation processes, the partnership guarantees passengers a memorable experience in Falmouth.
As the partnership sails forward, it looks ahead to welcoming more vessels, more passengers and creating more unforgettable maritime moments.
Guest satisfaction is at the core of SCH's mission. By joining forces with the Port of Falmouth, services extend beyond conventional cruise operations and ensure that guest's first and last impressions are outstanding.
(SCH Cruise & A&P Falmouth partner and welcome Ambition to the port – Cruise Britain)