ALMACO awarded at Chantiers de L'Atlantique Supplier Symposium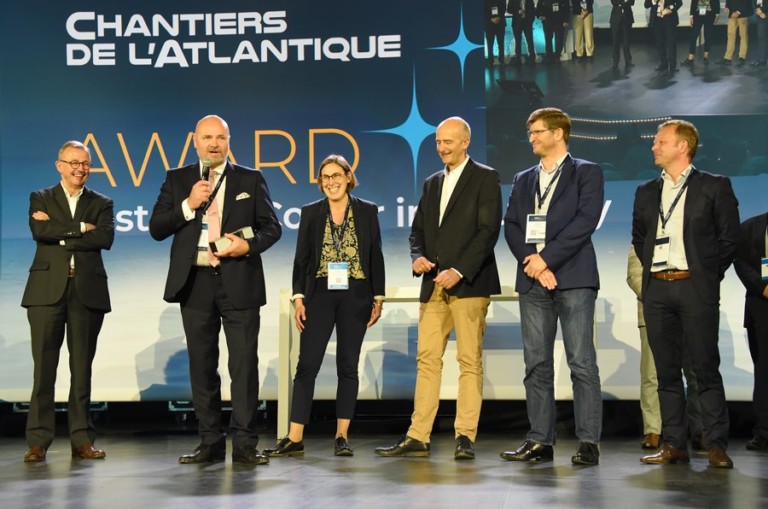 ALMACO is pleased to announce its recent recognition and award at the Supplier Symposium hosted by Chantiers de l'Atlantique.
The event, held onboard Euribia theater (V34), brought together major suppliers to celebrate great innovations, and well performed projects.
The award is a recognition of ALMACO's expertise and reliability
Frédéric Vasseur, President of Catering Systems at ALMACO, expressed gratitude and excitement about the award, stating, "We are honored to receive this recognition at Chantiers de l'Atlantique's Supplier Symposium. It showcases the dedication and hard work of our team in delivering innovative solutions to the market. We are particularly grateful for the opportunity to supply the laundry areas, as this marked our first significant laundry delivery project in ALMACO's history. We would like to extend our sincere appreciation to Girbau, our laundry equipment supplier, for their valuable collaboration and support throughout this endeavor. We are proud to be a part of Chantiers de l'Atlantique's long-term partner network and look forward to further collaborations in the future."
A team effort that we are proud of
Björn Stenwall, CEO of ALMACO, also shared his perspective on the award, stating, "Our team has consistently demonstrated commitment to excellence and innovation in our projects. The project team's contributions to the MSC World Europa (W34) Laundry project were outstanding, introducing new technologies that enhance efficiency and quality. We are very proud of their achievements and grateful for this prestigious award as a token of their well performed work."
Building a strong partnership for the future
The award not only reflects ALMACO's success but also signifies the collaborative efforts and strong relationship between ALMACO and Chantiers de l'Atlantique. It reinforces ALMACO's position as a trusted turnkey supplier and showcases the company's ability to deliver exceptional solutions.
As we celebrate this milestone, ALMACO remains committed to fostering a long-term partnership with Chantiers de l'Atlantique, consistently striving for excellence and continuing to bring innovative technologies and solutions to the market.