Sustainability at the centre of the 62nd MedCruise General Assembly in Corfu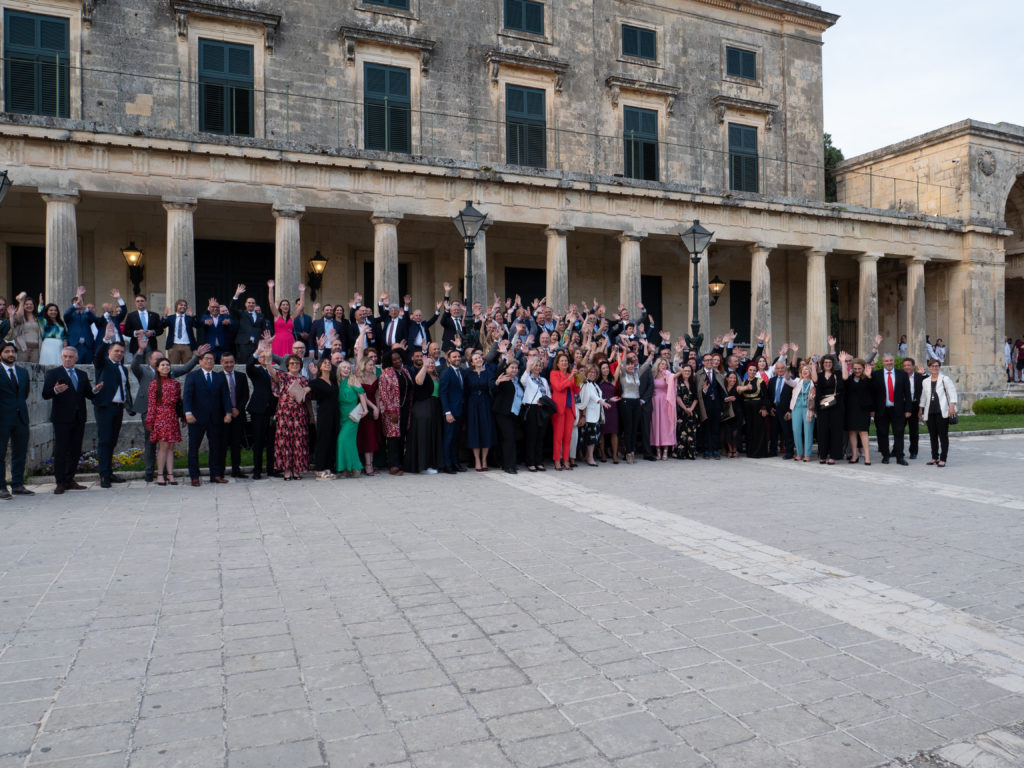 Sustainable cruise tourism, improvement in accessibility at Mediterranean ports, crew friendly facilities, the media, challenges facing small cruise ships and the impact on the cruise industry of new EU border rules, have been the main topics of the plenary sessions at the 62nd MedCruise General Assembly held in Corfu, Greece from 23rd to 26th of May.
The 62nd edition of the General Assembly (GA) of MedCruise, The Association of Mediterranean Cruise Ports, representing more than 150 cruise ports from 22 countries and three continents, was hosted by the Port of Corfu, in Greece, from 23rd to 26th May.
The official opening of the 62rd GA was held at the Corfu Holiday Palace Hotel in the presence of dignitaries from the Port and Municipality of Corfu, joined by members of the press.
A high level of interest in this GA from members of the Association was evident. The interest of professionals for the Association was confirmed by the number of the participants. More than 160 delegates, made up of Port members, Associate members, Cruise Lines and journalists attended the event. In three busy working days MedCruise organised 450 B2B meetings, networking opportunities, dedicated excursions and discussion panels and presentations where the main topics included, sustainable cruise tourism, improvement in accessibility at Mediterranean ports, crew friendly facilities, the media, and challenges facing small cruise ships.
In addition, the Port of Venice-Chioggia presented its best practices in terms of a sustainable approach to the cruise activity and in collaboration with CLIA there was an important update about the new border rules in the EU and how these will affect cruise activity.
The moderators of the discussion panels summarised their thoughts.
Francesca Antonelli, Senior Vice President of MedCruise and Member of the Board responsible for Professional Development said, "There is a huge market of people with accessibility needs who are willing to make a significant economic outlay in our ports and destinations. There is therefore a need to raise awareness and for further collaboration between the administration, shipping companies, port authorities, terminals, tour operators, excursion service providers and destination managers."
Mary Bond, Group Portfolio Director, Seatrade Cruise said, "The Role of the Media panel brought together representatives from national and B2B cruise press plus tourism, city, ports and destinations. Key is to keep feeding local and national media facts and figures about cruising's sustainable credentials and the economic benefit it brings to local communities and region; and for specialist B2B cruising media you can never provide enough information but be inspired to issue releases around new cruise infrastructure, new tours/attractions and the people that make a destination come to life."
Anne-Marie Spinosi, Member of the Board of Directors of MedCruise responsible for Events and #PortsTogether Activities said of her two panel discussions, "Our panel on social media spoke about videos, which bring life to destinations visited cruise companies. We talked about how to produce the best video to promote ports and destinations so that cruise visitors can enjoy an amazing experience. We also discussed about how to communicate on social media to get the best social engagement on our posts. This very interactive panel involved the audience in different actions on social media so our members can have a very practical and useful training, which completed the Professional Development Course organised last month by Senior Vice President, Francesca Antonelli Ibáñez.
When talking about the challenges of the cruise activity in islands we discovered that 37% of MedCruise ports are situated on islands, facing different challenges depending on their size, geographical position and level of industrial infrastructure.
Collaboration and communication between Ports and Cities are key to improve and maintains well balanced activity in islands which can suffer from over tourism.
Sustainability is key, although it can be more challenging to supply some equipment such as OPS in islands."
Lorenzo Vera, Vice President of MedCruise and Member of the Board responsible for Destination Development said, "It was an honour for me to moderate a panel at MedCruise for the first time. It was both rewarding and harder than expected. We discussed the commitment of MedCruise ports member to continue working on the crew-friendly initiative, improving communication and implementing new promotional tools. We concluded that the key is dialogue and collaboration between all the stakeholders of the whole industry chain including, cruise line, ports, destinations and port agents. We noted that the crew is the extension of the cruise lines' offices and the first ambassadors of our ports and destinations. They constitute one third of the ship's capacity and their economic impact can be higher than a tourist arriving by air to our cities."
As internal issue, MC has enlarged the family with the entrance in the association of 8 new associated members Altimex, Spain, Romeu, Spain, Port Argentario, Italy, Zadar Cruise Port (GPH), Croatia, Transcoma Cruises and Travel SLU, Spain, Davelor Ship Services LTD, Greece, Kition Ocean Port (Larnaca), Cyprus, MILLER Y CÍA, Spain.
The Association welcomed a new member port, Cesme from Turkey, taking the total number of port members to 76 and 54 associate members.
In addition, Mr Djoni Stambuk from the Port of Zadar was elected to the Board of Directors with a majority vote from the member ports.
Figen Ayan, President of MedCruise said, "For three days we were in the land of mythology, which has inspired so many stories. We were in a country inspiring strength and power. Not power over but power WITH, which is creating a sense of community; this sense of community that we bring successfully thanks to MedCruise's General Assemblies twice a year.
The success of our General Assemblies is undeniable, thanks to first a high participation number with more than 160 delegates from 16 countries, including 17 cruise executives from 15 cruise lines and 12 journalists from the international press. Moreover, I am very happy to share that thanks to MedCruise General Assemblies, our planet becomes greener, thanks to the campaign 1 registration 1 tree that we started last year with this time a new Turkish NGO, TEMA.
The B2B meetings were buzzing, the plenary sessions were fresh, creative and diverse thanks to high calibre panellists and moderators. A heartfelt thank you to all our cruise lines, media and guests for accepting our invitation and bring their valuable expertise and knowledge.
During our internal matters all our members have witnessed the phenomenal work deployed by the board of directors and secretariat in line with the high targets of this presidency and mandate. MedCruise is extremely active in EU and international platforms to become the point of reference in our cruise industry for our ports, but also generate new ideas, or inspiring techniques and approaches.
A round of applause to the Port of Corfu, to Spýros Zervópoulos, to our dear friend Aris Batsoulis who made us love Corfu, to our secretariat team who deployed all together an amazing work and to every single dedicated professional who contributed to another amazing MedCruise General Assembly."
The Port of Corfu offered two FAM trips to the cruise line and press representatives to discover Corfu and its surroundings with A Corfu History Walking Tour, a Boat trip, sailing through the crystal-clear waters of the Ionian Sea with stunning views of the Old Town of Corfu and its imposing fortress.
The 63rd GA Assembly will take place from 10th to 13th October, hosted by the Port of Burgas in Bulgaria.
See images at https://www.medcruise.com/news/sustainability-at-the-centre-of-the-62nd-medcruise-general-assembly-in-corfu