[adrotate group="4"]
Taranto: Presentation of Italian Cruise Day 2023 event and Cruise Season 2023 calendar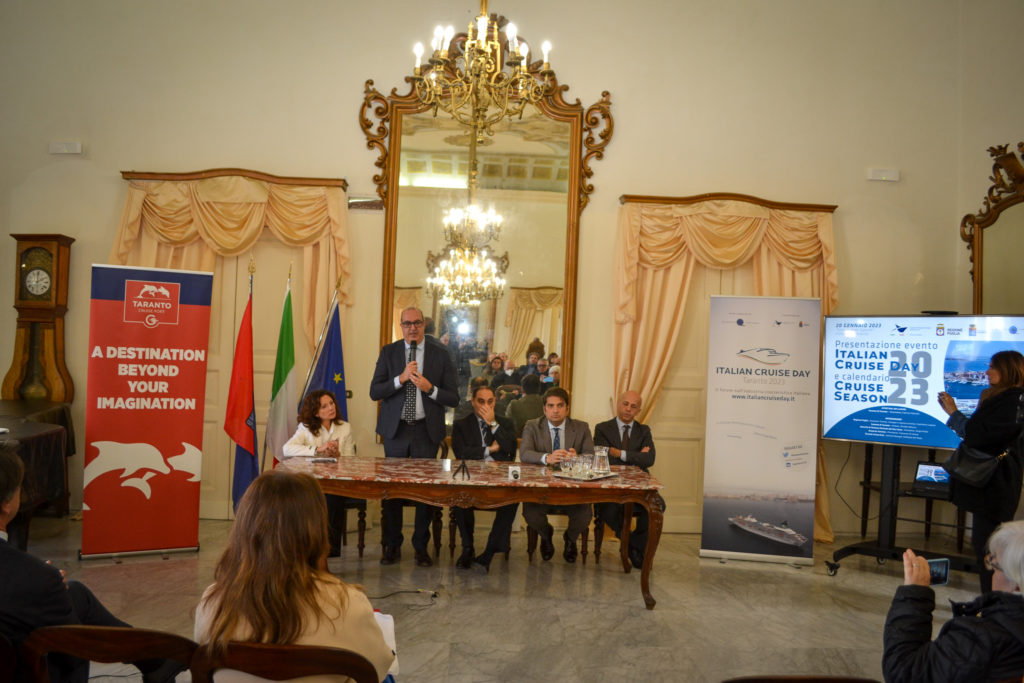 The Italian Cruise Day 2023 event was presented during the press conference held on January 20th 2023, in the Hall of Mirrors of the Taranto Municipality.
A major event for the Italian cruise industry, Italian Cruise Day 2023 will see the port-city of Taranto as hosting location of the initiative taking place on 27th October 2023.
In fact, hundreds of the best players in the cruise sector will have the opportunity to discover and admire the rich cultural and tourist heritage of the "Taranto destination", already endowed with the Destination of the Year title in 2022.
Both the Port Network Authority of the Ionian Sea and the Taranto Municipality will be supporting partners of the 2023 edition of the initiative. The President of the Port Network Authority of the Ionian Sea, Sergio Prete, the Councillor for Tourism, Development and Tourism Entrepreneurship of the Puglia Region, Gianfranco Lopane, the Mayor and Deputy Mayor of the Taranto Municipality, Rinaldo Melucci and Fabrizio Manzulli, and the President of "Risposte Turismo", Francesco di Cesare took part in the press conference.
Italian Cruise Day – the forum on cruise industry and tourism in Italy – is a project conceived and organised since 2011 by Risposte Turismo and represents a regular appointment for the professionals of the transnational cruise industry representing the various categories (tour operators, travel agents, shipowning companies, shipping agents, representatives of port entities and many others) that will meet in Taranto on 27 October.
The program will feature numerous initiatives, including discussion sessions and in-depth analysis moments on the dynamics of the sector, as well as opportunities for education and business networking. As in previous editions, the forum will also present the new Italian Cruise Watch, the research report produced by Risposte Turismo presenting the most up-to-date and relevant data on the cruise sector in Italy and forecasts for the year to come.
Raffaella Del Prete, General Manager of Taranto Cruise Port, also participated in the press conference, sharing the results achieved by the Taranto destination in the 2022 season, which saw the cruise port grow significantly with important numbers and results. Finally, the calendar of the 2023 cruise calls of Taranto destination has been made official during the press conference.
During this new season, the port will welcome 40 calls operated by 7 cruise lines: Celebrity Cruises, Marella Cruises, P&O Cruises, Costa Cruises, Noble Caledonia, Sea Cloud and Norwegian Cruise Line.