CLIA Awards return to celebrate resilience. CLIA Australasia to host its 20th Cruise Industry Awards next year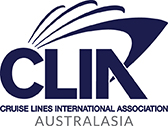 The cruise industry's biggest night of celebration will make a spectacular return next year as Cruise Lines International Association (CLIA) Australasia hosts its 20th Cruise Industry Awards.
Nominations open today for the first CLIA Awards in three years, allowing the cruise industry to honour the determination and resilience shown by the travel agent community across Australia and New Zealand.
CLIA Managing Director Australasia Joel Katz said this year's awards would play a special role in recognising the tenacity of the region's travel agents as well as their expertise and success.
"Over the past few years, we've seen extraordinary courage and conviction from our travel agent members who have rallied behind cruising and helped put us back on a course for recovery," Mr Katz said. "This is the perfect time to bring back The CLIAs and celebrate the stars of the Australian and New Zealand cruise community."
The 20th Cruise Industry Awards will be announced on Saturday 11 March at a gala celebration at Sydney's Luna Park Big Top, where entertainer Tim Campbell will return as host.
Eighteen award categories will be judged, including 11 open to self-nomination or peer-nomination. The awards are open to all current CLIA members in Australia and New Zealand, with nominations closing November 30, 2022.
Cruise Agency of the Year (Small – single location) – Australia
Cruise Agency of the Year (Small – single location) – New Zealand
Cruise Agency of the Year (Large – multi location) – Australasia
Online Agency of the Year – Australasia
Cruise Consultant of the Year – Australia
Cruise Consultant of the Year – New Zealand
Mobile/Home-Based Agent of the Year – Australia
Broker of the Year – New Zealand
Rising Star – Australia
Rising Star – New Zealand
Agency Cruise Promotion of the Year – Australia
Agency Cruise Promotion of the Year – New Zealand
Network Cruise Promotion of the Year – Australasia
Cruise Month Promotion of the Year – Australasia
Cruise Champion – Australasia
Cruise Line Champion (NEW) – Australasia
Media Award – Australasia
Hall of Fame
For tickets, information and nominations, visit CLIA Cruise Industry Awards: https://www.cruising.org.au/CLIA-Events/Cruise-Industry-Awards