MSC World Europa to feature enlarged and most luxurious Yacht Club to date with futuristic design and enhanced public spaces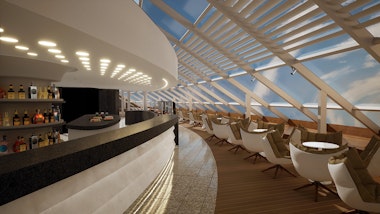 This year MSC Cruises is introducing the highly anticipated MSC World Europa to its fleet – the first in the trailblazing 'World Class' ships.
The new ship will introduce a completely new cruising platform that boasts future-proof marine and onboard hospitality technologies as well as ground-breaking and ultramodern design. One of the highlights of the ship will be an enhanced MSC Yacht Club.
The innovative "ship within a ship" concept is an all-inclusive cruise experience that set a new standard of premium cruising when it was introduced in 2008 by offering guests privacy and exclusivity as well as being able to enjoy all the facilities a larger ship can offer.
With the design of each and every new ship, MSC Cruises seeks to enrich and enhance the experience therefore the MSC Yacht Club on MSC World Europa will offer unparalleled levels of comfort, with more public space, expanded outdoor areas, new stylish suites and a futuristic design.
Key Highlights of the MSC Yacht Club on MSC World Europa include:
A totally reimagined sundeck – spanning two decks, guests have plenty of space to enjoy the ultimate sea views from the front of the ship. The lower deck allows guests to unwind and sip a glass of champagne from the bar or a bite to eat from the grill whilst the upper deck is home to a private pool and whirlpool where guests can take in the sun on comfortable loungers or one of the stylish private cabanas.
Two brand-new ultra-spacious Owner-Suites exclusive to World Class ships, these luxurious multi-room suites total over 150m2 between indoor areas and private balcony. The plush suites consist of a double bedroom, with walk-in wardrobe and bathroom complete with full-size imperial bathtub which connect to a separate living-dining area bathed in light thanks to floor-to-ceiling windows. For the ultimate VIP experience, guests step onto their own spacious balcony with al fresco dining area and whirlpool bath.
Double-balcony Duplex Suites – These two-deck suites offer a whole floor dedicated to luxurious relaxation with dining area, lounge and guest washroom. Heading upstairs, the main bedroom has its own bathroom, complete with bathtub. These special duplex suites offer two private sundecks, the lower deck offers a private whirlpool bath, seating and lounge area, and an upper deck for sunbathing with comfortable loungers.
Dedicated massage rooms – guests staying in the MSC Yacht club will have access to exclusive massage rooms in the cutting-edge MSC Aurea Spa, as well as unlimited use of the thermal area to pamper the days away.
The MSC Yacht Club experience
Key-card access exclusively grants those staying in the MSC Yacht Club access to the private lounge, serving unlimited complimentary drinks and gourmet canapés, and private fine-dining restaurant, open for breakfast, lunch and dinner with an a la carte menu with chef's specials, with a wide choice of gourmet dishes complemented by an extensive wine list.
These elegant spaces, designed with the future in mind, offer uninterrupted panoramic views from the very front of the ship, and after relaxing with a glass of champagne to live music, a traditional afternoon tea or after a day exploring ashore, guests can retire to their spacious and beautifully designed suite.
Fully personalised service comes as standard, with access to a 24-hour butler who will quickly get to know each guest's personal preferences with warm, friendly and unobtrusive service, and a dedicated concierge is on-hand to facilitate any request from dinner and spa reservations to a daily newspaper delivery, no request is too big or too small.
Completing the exclusive feeling is a private sundeck, with pool, comfortable sun loungers, shady cabanas and whirlpool, with nearby bar and grill for a well-deserved cocktail, glass of bubble or light bite.
MSC Yacht Club on MSC Seascape
MSC Cruises will also be launching MSC Seascape in December this year, with a 3,000m2 MSC Yacht Club set across four decks, features include:
A glamourous entrance featuring a three-deck 46 sqm back-lit Onyx wall and signature Swarovski staircases
The private pool area and sun deck of 2,000 sqm, offering a private pool and panoramic whirlpool with eight seats and individual jets plus a standard whirlpool
131 suites (five different types), including the traditional interior, deluxe and royal suites as well as 41 deluxe grand suites, with extra space and a walk-in closet, plus two Owner's Suites with 98 sqm of space, extended private balcony with whirlpool and outdoor living area
From December 2022, MSC Seascape will call at Ocean Cay MSC Marine Reserve in The Bahamas and MSC Yacht Club guests will also benefit from privileges ashore including a private beach and Ocean House, serving all-inclusive drinks and food.
The MSC Yacht Club is available on all Fantasia, Meraviglia, Seaside and World class ships.
MSC Yacht Club benefits
An all-inclusive experience with a host of privileges:
Dedicated priority check-in and check-out as well as priority departure and return on excursion days
24-hour butler service and dedicated concierge, which makes the cruising experience truly personal and tailored to each individual guest's needs
Unlimited drinks throughout the ship with a Premium Extra package included as standard
Unlimited dining within the MSC Yacht Club
Inclusion of the Browse Internet package with unlimited data for two devices
Complimentary access to the Thermal Suite in the MSC Aurea Spa
Tailormade experiences from shopping to excursions
Complimentary welcome bottle of either wine, Spumante, Champagne or spirit
Nespresso coffee machine in each suite and complimentary personalised mini bar offering juices, soft drinks, water, and beer replenished daily, and a complimentary snack
Room service so that guests can enjoy a relaxed morning with breakfast in bed
Other personal touches such as a luggage unpacking and packing service, newspaper delivered to the cabin each day and something different delivered at turn down each night – a different selection of sweet or savoury canapés each day
Feel like a VIP in the exquisite private facilities:
Dedicated, private area of the ship accessible only to MSC Yacht Club guests
The best location of suites with between 70 and 152 suites, featuring a pillow menu and Egyptian cotton sheets with memory-foam mattresses for the most comfortable night's sleep
Panoramic Top Sail Lounge with bar, afternoon tea service, light bites available day and night and live entertainment in the evening
Gourmet restaurant with a la carte dining for breakfast, lunch and dinner where guests can dine at a time that is convenient to them
A private and spacious pool deck that offers whirlpool baths and sunbathing area and outdoor bar, guests can enjoy the very best view on board across the bow of the ship and out to sea.