Silversea Showcases The Best Of Antarctica, Photographed By Steve Mccurry For The Very First Time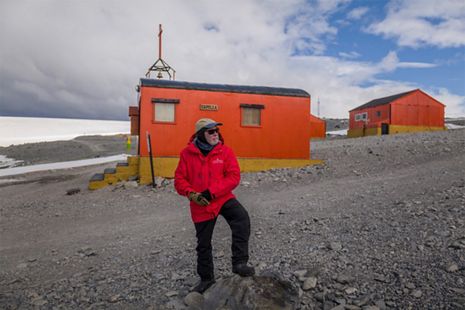 Legendary photographer Steve McCurry has photographed Antarctica for the first time in his career, travelling to the White Continent on a 10-day sailing from December 10, 2019, aboard Silversea's Silver Cloud.
McCurry crossed the Drake Passage to capture inspiring images of the Antarctic Sound, the Antarctic Peninsula, and the South Shetland Islands. His spectacular images reflect Antarctica's unique natural beauty, the captivating wildlife that inhabits the region, the unforgettable experiences on offer here, and the unique talents of one of the world's foremost visual storytellers.
"Antarctica is unlike any other destination in the world. It felt like I was on another planet," says McCurry. "I left Ushuaia excited to see huge icebergs and alien landscapes, but Antarctica's diverse ecosystem greeted me with so much more—whales, seabirds, penguins, and seals, plus vast glaciers and relics of history, frozen in time. Being able to experience the continent so authentically, while accompanied by experts in their field, was an experience that will live with me forever."
Among the highlights of his expedition, McCurry quotes up-close encounters with whales and elephant seals as his most memorable—the animals willingly approached the photographer, yet McCurry maintained a safe and respectful distance to avoid disturbing them.
"We had some incredible encounters with elephant seals, which were fascinating," continues McCurry. "They are such enormous creatures with big beautiful eyes and wonderful expressions—so full of emotion."
Another of McCurry's highlights was the opportunity to travel with Silversea's Expedition Experts, who enriched his experience with their extensive and broad-ranging knowledge. The photographer attended topical lectures in Silver Cloud's Explorer Lounge, delivered by Silversea's Expedition Team, before journeying ashore on one of the ship's 18 Zodiacs to discover the natural beauty of Antarctica first-hand.
"Being accompanied by experts in their field taught me a lot about what I was experiencing, which enriched the experience," says McCurry. "I always looked forward to all the lectures and learning about this unique part of the world. I spent many enjoyable meals talking to these experts and scientists, learning about the region."
"The abandoned whaling station we visited on the South Shetland Islands was very interesting. The region has numerous whaling stations, scientific bases, and way stations that have been abandoned. They are now covered in snow and ice, but still serve as remarkable time capsules. I saw an airplane hangar, dormitory, cemetery and huge oil storage tanks."
"A master of his art, Steve McCurry is the perfect storyteller to capture the authentic beauty of Antarctica for our guests," says Barbara Muckermann, Silversea's Chief Marketing Officer. "Antarctica is a unique destination, but Steve was certainly up to the challenge. His curiosity reflects that of our guests, as does his yearning to travel deeper to discover rare and authentic moments. Aboard Silver Cloud, Steve did exactly this and his inspiring images perfectly capture the range of unique experiences that our industry-leading Expedition Team unlocks for guests."
(Silversea Cruises – Silversea Expeditions)