Regent Seven Seas Christens Ship That Perfects Luxury – Seven Seas Splendor. Gala Celebration Features Ship's Godmother, Christie Brinkley and British singer-songwriter Seal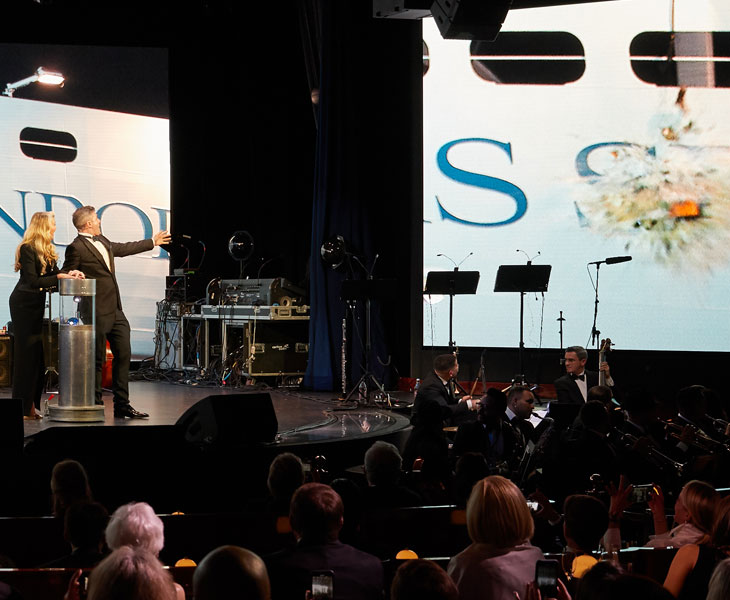 Regent Seven Seas Cruises hosted an elegant and glamorous christening gala in Miami to welcome its newest ship that defines Luxury Perfected, Seven Seas Splendor™.
Exclusive guests, including travel partners, local community leaders, media and luxury travelers, were invited to the private black-tie evening ceremony on board Seven Seas Splendor to celebrate the all-suite, all-balcony luxury cruise ship. In addition, more than 35,000 people watched the ceremony broadcast live on Facebook and YouTube.
"Seven Seas Splendor is the epitome of luxury perfected," said Frank Del Rio, president and chief executive officer of Norwegian Cruise Line Holdings Ltd. "Every ship we launch gets even better, and Seven Seas Splendor is magnificent. The collaboration between the designers, engineers, craftsmen, hotel and restaurant teams, and the crew onboard, all brings the renowned Regent experience to life on this beautiful ship. Seven Seas Splendor is a celebration of excellence, friendship, success and luxury."
Seven Seas Splendor is helmed by 30-year veteran Captain Serena Melani, the first woman to captain a newly built ocean cruise ship. In acknowledging this pioneering honor during her remarks, Captain Melani told the audience following a standing ovation that women can achieve any goal with perseverance and hard work, and that the ship's 550 crew members deserve recognition for providing luxury travelers with the highest levels of personalized service and comfort on board.
Another woman trailblazer followed Captain Melani on stage. Honorary Godmother Christie Brinkley delivered the traditional maritime blessing — "I hereby name this ship Seven Seas Splendor. May God bless her an all who sail on her" — which officially christened the vessel. The world-famous supermodel, glamorous actress, proud mother and successful entrepreneur then depressed a button which sent a 15-liter Veuve Clicquot Yellow Label Brut champagne smashing against the ship's hull to symbolically welcome the newest member of the Regent Seven Seas Cruises fleet.
"Gorgeous is the word I use to describe Seven Seas Splendor," Brinkley said. "All the details on this ship are amazing, from the artistic style of the Italian marble, the artwork and chandeliers, to the sculpture of the mythical dragon outside Pacific Rim. Every inch of this light and bright ship is filled with luxurious details. My parents had cruised on Regent ships. If they were here today, they would be so excited and proud for me to be Godmother to Seven Seas Splendor."
To conclude the celebration, guests were treated to an unforgettable concert by four-time GRAMMY-award winning British singer-songwriter, Seal, whose performance wowed the audience.