Regent Seven Seas Cruises® Announces Seven Seas Splendor™ Senior Officer Team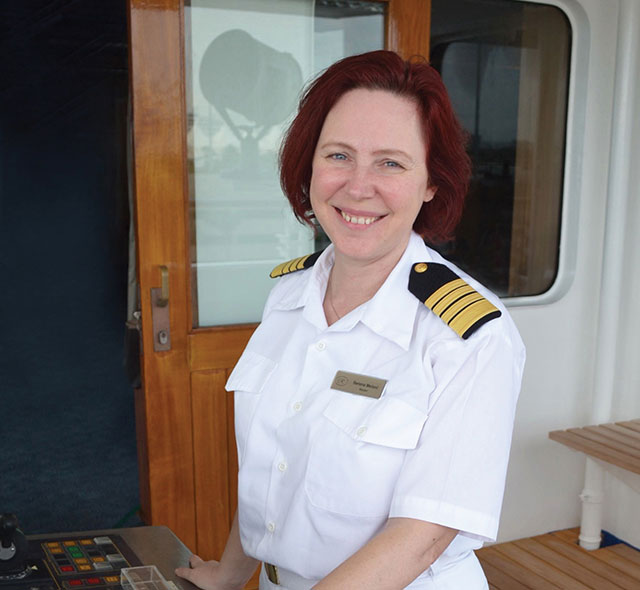 Gratitude is at the heart of exemplary service, which is why this holiday season Regent Seven Seas Cruises® announces the inaugural senior leaders of Seven Seas Splendor™, who are responsible for ensuring the new ship's guests enjoy an unrivaled, personalized experience and are treated like family.
The five talented senior officers will lead 542 crew when Seven Seas Splendor debuts in February 2020, collectively caring for 750 guests on board the spacious yet intimate ship that perfects luxury.
"We're thankful for this phenomenal leadership team assembled to deliver our guests a safe and extraordinary experience on every Seven Seas Splendor voyage," said Jason Montague, president and chief executive officer of Regent Seven Seas Cruises.
"They are consummate hosts for our luxury travelers. As the first female captain to launch an ocean cruise ship, pioneering Captain Serena Melani takes the helm with strength and expertise. General Manager Franck Galzy will ensure the most luxurious accommodations and the highest levels of personalized guest services are offered in an inviting atmosphere. Cruise Director John Barron sets the course for laughter and entertainment that results in memorable moments. Chief Engineer Giuseppe Russo brings more than 20 years of tenure to ensure the engine and systems operate smoothly. And, Staff Captain Diego Michelozzi's hands-on leadership and engaging communication style will ensure strong teamwork throughout this remarkable vessel."
Introducing The Seven Seas Splendor Leadership Team
Captain Serena Melani
As previously announced in March 2019 on International Women's Day, Captain Melani will be the first woman in cruise industry history to captain a new ocean ship at launch. Captain Melani has progressed quickly in her nearly 30-year career to roles of maritime leadership. She began her nautical career at age 16 as a cadet while attending school working on cargo ships in her hometown of Livorno, Italy, along the Tyrrhenian Sea in the Tuscany region. After graduating from Nautical College in 1993, Captain Melani was one of only a few females to hold roles of increasing responsibilities on oil tankers, cargo and container vessels. Captain Melani joined Regent in 2010 as a Bridge Officer, and then served as Navigation Officer, Safety Officer and Staff Captain on Seven Seas Voyager®. She became the company's first female Master Captain in 2016 and has led Seven Seas Explorer® and Seven Seas Mariner® during her tenure.
General Manager Franck Galzy
General Manager Franck Galzy was born in the beautiful city of Angers, Loire Valley, France, surrounded by picturesque vineyards about two hours southwest of Paris. He began his formal education in Electronic Management, but soon found his passion in food and wine. Galzy joined Regent in 1999, where he quickly progressed, serving as a Sommelier, Head Waiter, Head Sommelier, Bar Manager and then Provision Master. With his vast experience and charming personality, Franck moved into management positions, ultimately serving as Food and Beverage Manager before becoming Regent's youngest General Manager in 2009. Having launched sistership Seven Seas Explorer in 2016, Galzy is ready to welcome Seven Seas Splendor to the Regent fleet and delight all the guests who sail her with genuine hospitality and attention to detail, from little touches in guests' suites to the exquisitely prepared cuisine.
Staff Captain Diego Michelozzi
Staff Captain Diego Michelozzi was born in Viareggio, Italy, where he still resides happily with his wife Samantha. He studied at Nautical school in his hometown and after six years at sea, obtained his unlimited Master license in 2004. Staff Captain Michelozzi graduated with an associate degree in Business and Management from the University of Phoenix in 2012 and is currently studying at the University of Kent for a Maritime, Leadership and Management degree. His passion has always been working onboard cruise ships, and he has done so for the last 20 years. After three years with the Regent family, Staff Captain Michelozzi is honored and humbled to be part of the Seven Seas Splendor launch team.
Chief Engineer Giuseppe Russo
As Chief Engineer, Giuseppe Russo's job is to keep the ship sailing smoothly. In addition to responsibility for the ship's engines, he directs a 34-person crew with broad responsibilities from air conditioning and plumbing to steering machinery, fuel lines and more. Born in Piano di Sorrento, Italy, Chief Engineer Russo resides in Sant'Agata sui Due Golfi and Capri Island, with his wife. After completing his Engineering studies in Piano di Sorrento, he worked on container ships for five years. Chief Engineer Russo then transitioned from container to cruise ships and joined the Regent family in January 2003 aboard Seven Seas Voyager.
Cruise Director John Barron
Cruise Director John Barron hails from Sutton Coldfield in England and today resides in Newcastle with his wife and two children. Barron's career at sea began on Seven Seas Navigator® in 2000 as a principal singer in production shows. He was promoted to Cruise Director in 2004 and sailed with Regent until 2009, when Barron decided to spend time on land to raise his young children. Seven years later Barron returned to both the sea and to Regent. Today, he splits time between sailing and spending quality time with wife Lynsay and sons, Luke and Benjamin. Barron enjoys meeting guests and loves to sing and make guests laugh during their enriching and luxurious journey.
About Seven Seas Splendor
Currently being built in Ancona, Italy, Seven Seas Splendor will offer luxury travelers the most exquisite accommodations as she sails to the world's iconic destinations and less-familiar hidden gems starting in February 2020. Seven Seas Splendor will sail the Caribbean and Mediterranean during her inaugural season.