Musical Comedian Tom Franek Voted Princess Cruises' 2018 Entertainer of the Year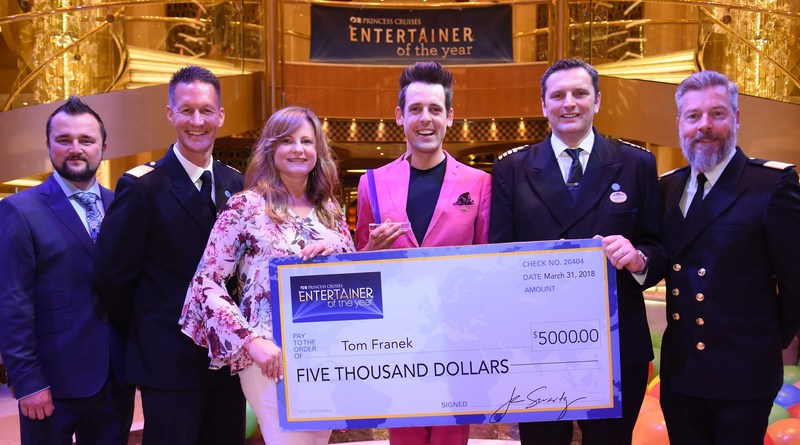 Guests aboard Regal Princess voted musical comedian Tom Franek, as Princess Cruises' "2018 Entertainer of the Year." Four finalists were selected from the hundreds of talented performers — comedians, magicians, vocalists, tribute bands and novelty performers — which entertain guests on Princess Cruises' stages each year.
These top artists performed to enthusiastic audiences during the cruise, and then guests cast their ballot to select the winner. This year's competition brought a record-breaking number of guests out to vote, a nod to the level of talent among the finalists.
Guests aboard the March 25 Regal Princess seven-day cruise to the Caribbean enjoyed live performances from each finalist. The finalists were determined by the Princess Cruises entertainment department based on guest surveys and onboard audience response. Along with Franek, the finalists included vocalists The Modern Gentlemen, comedian Jo Little, and illusionist Michael Barron. Franek was announced as the winner on the final night of the cruise and presented a $5,000 cash prize at a celebratory event in Princess' signature venue, The Piazza.
Franek's stage shows are performed around the world and combine clean comedy, genuine charisma, dynamic piano playing, singing, dancing, quick wit, and contortionist acrobatics in an unforgettable experience that leaves audiences' jaws dropped and people talking.
"Congratulations to Tom Franek Princess Cruises 2018 Entertainer of the Year,'" said Denise Saviss, Princess Cruises vice president of entertainment experience. "Guests were entertained by the energy and excitement of the performers this year – it was surely a difficult choice to select a favorite."
This is the line's seventh annual "Entertainer of the Year" competition which was established to recognize the high caliber and diversity of guest entertainers that perform on each Princess cruise. Previous Entertainer of the Year winners, Nathan Foley, Ben Seidman, Zach Winningham, Tony Tillman, Carlos Oscar and Robbie Printz continue to perform year round on Princess and remain among the top-rated entertainers throughout the fleet.