MedCruise leads Travel Agents Training @ Seatrade Cruise Asia Pacific 2017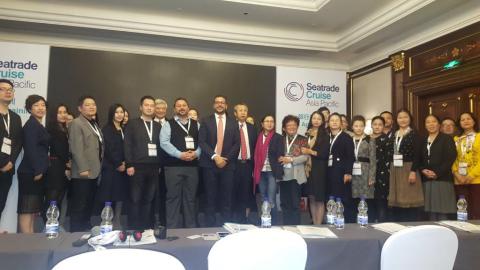 MedCruise leads once again this year the Travel Agent Training programme that took place during Seatrade Cruise Asia Pacific 2017 event held 1-3 November, in Baoshan District, Shanghai, China.
The programme, which is sponsored by MedCruise, attended by travel agents from different regions of the Far East, who had the opportunity to discuss with MedCruise President Airam Díaz Pastor on the richness of the Mediterranean destinations and the multiple opportunities offered in the Mediterranean and its adjoining seas.
MedCruise President initiated the discussions presenting the Med and its adjoining seas as a cruise destination and describing all those features that make the Mediterranean the best choice for cruising. He also updated travel agents on the prospects of cruising in one of the most interesting regions of the world, while the presentation was followed by an extensive network session.
"The message MedCruise spreads to the Chinese world is clear: there is nowhere else on this planet where one can cruise to so many different countries within such a short period of time and sample as many flavours, cultures and retrace the footsteps of history as one can in the Mediterranean and its adjoining seas", says MedCruise President Airam Diaz Pastor.
With China being a dynamic cruise market, an impressive number of Chinese will opt to cruise over the next few years. For MedCruise, the priority is to communicate to Chinese and Asian citizens the presence of a region that offers so many opportunities to maximise their satisfaction from cruising: The Med and its adjoining seas.
All delegates of the event received the latest MedCruise material οn the cruising opportunities offered in its member ports, as well as a specially designed MedCruise newsletter in Chinese language.
All MedCruise members enjoy exclusive access to a database containing the major travel agents in China, the result of the pioneering strategy of the Association to create a 'cruise the Med culture' all over the world.