Carnival Corporation Wins Partner of the Year Award for Commitment to Travel Professionals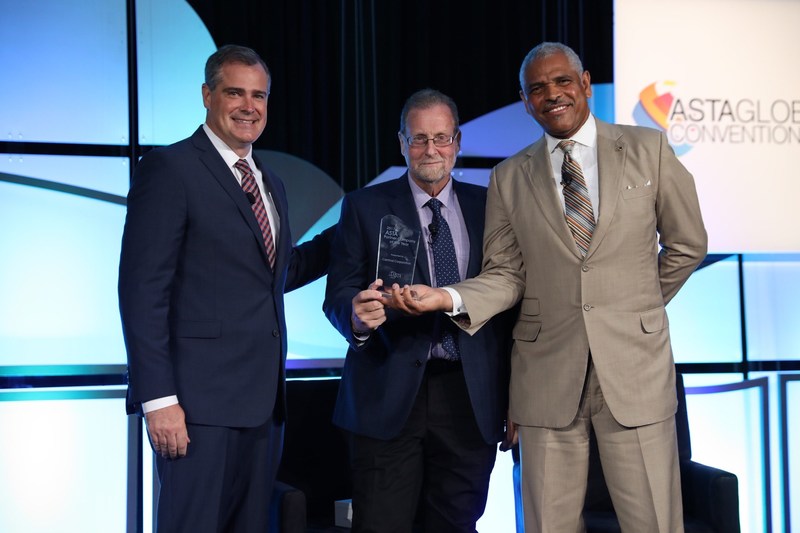 Carnival Corporation & plc was honored by the American Society of Travel Agents (ASTA) with the 2017 ASTA Supplier Partner of the Year Award for its commitment and dedication to travel agents and lasting contributions to the global travel professional industry.
ASTA's president and CEO, Zane Kerby, presented the company with the award at the ASTA Global Convention 2017 in San Diego following a keynote address by Arnold Donald, president and CEO of Carnival Corporation, during which he highlighted the key role of travel agents in growing demand for cruise vacations.
The ASTA Supplier Partner of the Year Award was established to recognize the partner who has impressed the agency community most by offering the best service and by helping agencies with attractive agency compensation and creative pricing. ASTA selected Carnival Corporation as this year's recipient based on the company's outstanding support and commitment to ASTA and the agency community, supporting the trade organization's critical mission of industry advocacy and keeping the travel advisor channel vibrant.
"Travel agent professionals have been and continue to be extremely crucial to our success as an industry, and we are committed to ensuring our agent partners have the tools they need to be successful 'matchmakers' in pairing their clients with the best cruise line and ship for a vacation that exceeds all expectations," said Donald. "When our agent partners understand the psychographics of our brands and pair that with what they know about their clients, they can guide people to the right cruise experience and help create happy cruisers for life – and that is our common objective. We thank both ASTA and the entire agent community for teaming with our 10 leading global brands to help drive our collective growth."
Carnival Corporation and its brands have established several travel agent-focused programs – like Carnival Cruise Line's "Agentpalooza" – to help travel professional partners better understand and then convey each line's offerings, specialties and differentiators, and to equip them with the tools they need to be successful.
"We are thrilled to recognize Carnival Corporation and CEO Arnold Donald as the ASTA Supplier Partner of the Year," said Kerby. "Carnival Corporation and its brands understand that travel advisors are a critically important distribution channel who can help build lifelong advocates for the fast-growing cruise sector, and that a partnership approach with sharing of tools and resources is necessary to help agents be the most successful they can be. From sponsoring our consumer research each year, to launching bonus commission programs, the company's leadership continues to build on its track record of helping agents grow their business and better understand today's traveler."